Map 6 ~ Orford/Fairlee
Printer friendly map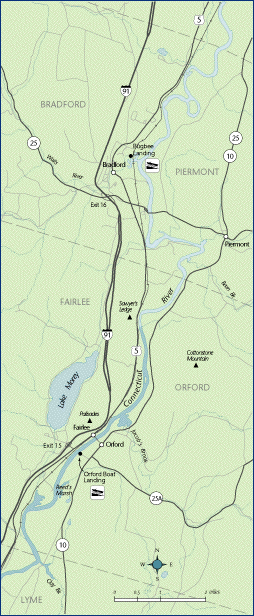 Watch for the swift flash of peregrine falcons diving from their cliffside nest on the Palisades above the village of Fairlee. This is one of several Connecticut River Valley nesting sites for these birds, which are making a comeback from near extinction.
Slipping beneath the historic tied-through steel arch bridge linking Fairlee and Orford, the first New Hampshire steel bridge on the National Register of Historic Places, the Connecticut River leaves the tighter oxbows in its journey among the farms and villages of the Upper Valley. The bridge is named for Samuel Morey, a local inventor who ran his steam paddle boat on the river 15 years before Robert Fulton. Morey's house is among those on the famous Orford Ridge, visible on the terrace above the river.
The Orford Boat Landing is being rebuilt by NH Fish and Game.
The river is too narrow throughout this section for legal use of ski craft.
Marine Patrol: Toll Free in NH (1-877-642-9700) or 603-293-2037. For the safety of all, please call if you observe illegal or dangerous boating activity.
Information on current and projected flows at Connecticut River mainstem dams is available through TransCanada Hydro Northeast.