Map 5 ~ Woodsville/Wells River
Printer friendly map
Below Dodge Falls, the river is flat and easily paddled for most of the way to Woodsville, where it becomes challenging again as major tributaries boost its flow. This section is too narrow for travel over headway speed, and for ski craft. Paddlers should beware the dramatic narrows at Bath, where certain water levels can create a tricky whirlpool.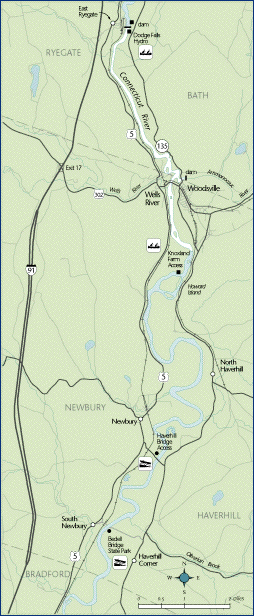 Once a major station both in the Connecticut River's long history of log drives and the railroad, Woodsville hosts the ghosts of river drivers and train wrecks. A new fishing and cartop boat access has been built just below the Woodsville-Wells River Bridge.
Below Woodsville and the twin village of Wells River, the Connecticut serves up good canoeing and great views. Howard Island is a favorite picnic site, but watch for shallow water. The river enters a series of broad oxbows as it meanders among some of the richest farmland in New England. These flood plains, known centuries ago as the Cohass Meadows, prompted colonial New Hampshire to lay out a road through its wild interior from Haverhill to the Seacoast to bring food to its growing coastal population.

Agricultural use requires the respect of recreationists. Watch your wake to avoid causing erosion of these valuable riverfront lands. Your wake can wash sediment into the river, covering fish spawning habitat. Park your car where it will not block the movement of farm vehicles, particularly at Bedell Bridge State Park, where a narrow lane is the main access for both the farm landowner and visitors to the river. The park commemorates a long-loved covered bridge, whose stone piers remain in the river. Rebuilt in 1979, the bridge was lost in a sudden windstorm only two months later.
At Cow Meadow Flat in Newbury, the river enters the impoundment behind Wilder Dam, some 46 miles downstream, and once again is wide enough to allow small motorboats to travel its waters. The mouth of the Oliverian Brook offers excellent birding and fishing.
Between Bradford and Piermont is perhaps the only place on the river where one can walk between New Hampshire and Vermont. A flood in the 1950s cut off an oxbow, and part of Bradford became an island. Sediment has since built up linking the island with the New Hampshire bank.
Information on current and projected flows at Connecticut River mainstem dams is available through TransCanada Hydro Northeast.
The river is too narrow throughout this section for legal travel by personal watercraft. Marine Patrol: Toll Free in NH (1-877-642-9700) or 603-293-2037. For the safety of all, please call if you observe illegal or dangerous boating activity.