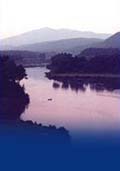 Science has brought new understanding of how rivers and streams move through their watersheds, and what that means for people making their homes, cultivating their farms, and conducting their businesses on their banks.
See below for helpful publications, studies, and riverbank restoration projects sponsored by the Connecticut River Joint Commissions.
The Challenge of Erosion in the Connecticut River Watershed

Learn more about this complex river process and what you need to know if you have a river for a neighbor. Browse CRJC's set of fact sheets, including methods for stabilizing an eroding riverabnk and where to go for a permit based on where your project is located.

Riparian Buffers for the Connecticut River Watershed

Native trees and shrubs growing naturally on the shore are a river's best hedge against pollution. Visit our widely-acclaimed series of fact sheets, including the many benefits of buffers, recommended plants, and sources of assistance for restoring buffers.

River Assessment & Riverbank Restoration

The Connecticut River Joint Commissions have sponsored a series of fluvial geomorphic assessments on the northern mainstem and several northern tributaries. Find study reports and erosion maps for 16 northern Vermont and New Hampshire towns here.