Our PARTNERSHIP PROGRAM has enabled Valley residents and organizations to act on their vision of creating a prosperous region that respects its environment, culture, and history. In the 14 years of the program, CRJC has disbursed over $1,288,500 to support 400 local projects throughout the Connecticut River watershed. Grants of $500-5,000 support innovative, community-generated projects that address economic and conservation challenges in ways that are compatible with the river valley's historic, scenic, and natural resources. The program became inactive in 2007 when funding for the grant program was not included in the Congressional budget.
To restore this much-valued program to support local stewardship, the Vermont and New Hampshire Congressional delegation has introduced the Upper Connecticut River Partnership Act in the U. S. Senate and House of Representatives. For more information
Eligible projects are those that help implement the goals of the Connecticut River Corridor Management Plan and further the goals of the Connecticut River Byway, in these areas: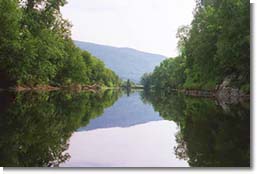 water quality
fisheries & wildlife habitat
recreation
agriculture & forestry
land use guidance
river-related education
preservation of scenic & historic features
visitor education for the Connecticut River Byway.
Eligible applicants include town boards, committees, or commissions, non-profit tax-exempt organizations, schools (public or private), and regional organizations located in the upper Connecticut River watershed of New Hampshire and Vermont. Informal citizen groups, state and federal agencies, and private businesses may also apply, but must do so through one of the above organizations. See below for more on previous years' winning projects.
Proposals are invited in early February, with an application deadline in late March. Specific dates, guidelines, and an application will be posted here. Decisions are announced in May, and funds are available in early June.
The Partnership Program has been funded by a Congressional appropriation to the National Oceanic and Atmospheric Administration on behalf of CRJC. While Partnership Program funds therefore cannot provide match for other federally funded grants, they have assisted communities securing grants from NH's Land & Community Heritage Investment Program and other state and local sources. Click here to view Partnership grants that support Vermont's Clean and Clear Initiative.
Applicants should also know about another important source of grant funds for projects in the Connecticut River watershed (upstream of the White River confluence): the Upper Connecticut River Mitigation and Enhancement Fund.
back to top
Previous years:
In 2006, the Connecticut River Joint Commissions awarded $82,000 in Partnership Program grants to projects dedicated to enhancing natural, cultural, and human resources in the Connecticut River valley. Twenty-six projects were supported throughout the watershed, with grants ranging from $1,500 to $5,000.
In 2005, CRJC awarded $85,000 to support 26 projects, including a grant to create aVolunteer Water Quality Monitoring Program for the Ammonoosuc River as part of a comprehensive Ammonoosuc River Corridor Study. The Town of Littleton won CRJC's first Founder's Award for its sponsorship of this project to gather good scientific information in cooperation with its river neighbors, Bethlehem, Carroll, Lisbon, Landaff, Bath, & Haverhill, New Hampshire.
In 2004, CRJC awarded $84,600 to support 25 projects throughout the watershed, from a natural resource inventory for the Town of Colebrook in New Hampshire's North Country to an assessment of Ball Mountain Brook in southern Vermont. Grant funds are supporting improvements in recreation, water quality, habitat, and historic preservation, and helping towns with decision-making when it comes to natural resources.
In 2003, CRJC announced 25 grants totaling $85,000. In 2002, CRJC awarded $145,000 for 40 projects. In 2001, the Joint Commissions awarded $131,000 to support 38 projects, among them the conservation of 41 acres surrounding prime coldwater fish habitat at Lyman Falls in the Northeast Kingdom of Vermont.
The Partnership has been made possible through support by the VT and NH congressional delegations. This federal seed money has been matched 10:1 by local generosity, even though no match is officially required. The Partnership has been unique as a stimulus from the federal government for local enterprises, without burdens of federal controls or paperwork.
back to top