Map 12 ~ Westminster/Westmoreland
Printer friendly map.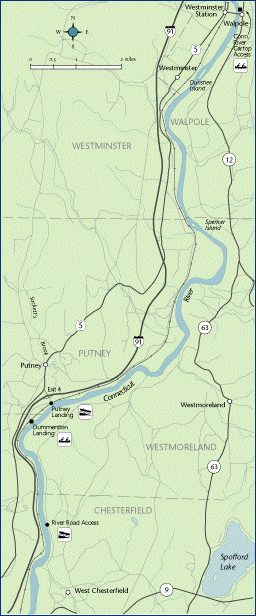 Much of the beautiful scenery that surrounds the river is brought to you by valley farmers, who value their productive soil and appreciate your care with your boat wake. Some of these farms have been permanently protected.
Connecticut River islands are special places. To protect habitat for rare species on Walpole Island, please do not disturb cobbles, collect plants, or build fires, and avoid walking on the upper part of the cobble beach near the north end. Dunshee Island is owned by the NH Fish & Game Dept.
Notice the remnants of silver maple flood plain forest which once clothed the riverbanks throughout. These forests are specially adapted to changing flows, and don't mind getting wet feet. Besides protecting the banks from scouring and ice, flood plain forests shelter migrating birds on their way north in the spring, and usher them home in fall. They also protect water

quality for swimming and fishing, by filtering out pollution and sediment coming off the land.
In fact, one of the best things YOU can do to improve the boating experience on a river is to safeguard a buffer of vegetation along your home stream, whether it's a tiny tributary or the mighty Connecticut itself. For more information, call CRJC at 603-826-4800.
The river is too narrow throughout this section for legal use of ski craft.
Information on current and projected flows at Connecticut River mainstem dams is available through TransCanada Hydro Northeast.
Marine Patrol: Toll Free in NH (1-877-642-9700) or 603-293-2037. For the safety of all, please call if you observe illegal or dangerous boating activity.