Map 11 ~ Bellows Falls Pool
Printer friendly map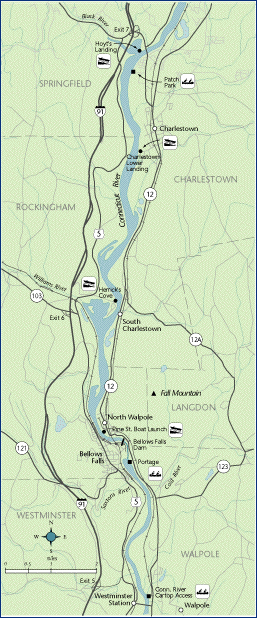 Leave your vehicle where it will not interfere with traffic and agricultural use. For boating services, Green Mountain Marine is located in Rockingham.
Avoid allowing your wake to strike the steep bank above the Bellows Falls Dam at N. Walpole. Severe erosion occurred here several years ago when ice floes caught on submerged cribs dating from the log drive days, and created a strong eddy.
To portage the dam, canoeists may call for a taxi to help with the 1 1/2 mile trip.
Bellows Falls Dam, like the dams at Wilder and Vernon, has a fish ladder to allow migration upstream, and also downstream passage. Bellows Falls is the historic upstream limit for American shad, which are now returning to the river by the thousands now that passage has been built for them. Information on current and projected flows at Connecticut River mainstem dams is available through TransCanada Hydro Northeast.
The first bridge ever built across the Connecticut River linked Bellows Falls and Walpole, in 1784. Soon afterward, one of the earliest canals in the country was cut to aid navigation around the falls. It became part of the hydro dam in 1928.
Below the dam, the river welcomes fishermen, canoeists, and kayakers, but is too shallow for motorized boats above Walpole Island.
Marine Patrol: Toll Free in NH (1-877-642-9700) or 603-293-2037. For the safety of all, please call if you observe illegal or dangerous boating activity.