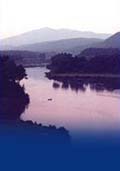 Swimming
in the Connecticut River

(Mostly) gone, but not forgotten, is the time when straight pipes spewed raw sewage directly into this lovely river, and its waters ran a different color each day, depending on what dyes a riverfront industry was using.

Is the water clean enough for safe swimming?

CRJC is sponsoring a Rapid Response Water Quality Monitoring Project in 2008-9 to detect and report unsafe bacteria levels in the Upper Valley region of NH & VT. Details here.


Look before you leap

The Connecticut River is not a lake. The river's depth varies greatly, and water that is plenty deep for jumping and diving may be only inches deep a few feet away. Unseen logs and other debris may be floating just below the surface. Don't jump off bridges, and never, ever swim below a dam!


Watch for boats

State boating law requires that boats must slow down to headway speed within 150' of a swimmer. Be sure approaching boaters can see you.


What about water skiing?

Watch for floating debris, particularly after heavy rains. Boats towing water skiers should use only those areas of the river wide enough to allow a turn while maintaining skier speed, staying 150' from shore at all times except when getting underway and dropping off. Boats towing water skiers have right of way.


What can you do to help protect and improve water quality?

Everyone in our watershed plays a part in determining water quality in the river that flows through it. Here's what you can do.
Is the water clean enough for safe swimming?
The presence of E. coli bacteria in the water is a primary concern for swimming. Bacteria can reach rivers through poorly functioning septic systems or drainage from areas where animals are concentrated, whether they are moose or cows, especially where they have direct access to a tributary or the river itself. Bacteria can also reach rivers through runoff, such as stormwater washing over a city street where dog walkers do not pick up after their pets, and especially through combined sewer overflows, where runoff from heavy storms can overwhelm a wastewater treatment plant and send untreated sewage into the river. Bacteria counts are variable, but are likely to be higher in the river after a heavy storm.
Rapid Response Water Quality Monitoring Project - In 2008-9, as part of the Connecticut River Tri-State Targeted Watershed Initiative, CRJC is working with the Massachusetts Water Watch Partnership and the Pioneer Valley Planning Commission to provide better information for recreational users of the Connecticut River, safer water-based recreation, and increased local, state and federal funding for Connecticut River clean-up.
This project will monitor river bacteria levels and provide up-to-date information on water quality conditions, via a website, to recreational users of the Connecticut River. Volunteers from Hartland VT, Lebanon NH, and other river towns are monitoring the river twice a week during the summer recreation season at a variety of locations from Lebanon and Wilder to Cornish and Weathersfield, including Sumner Falls and the confluence of Blood (True's) Brook. Results will be posted HERE and provided to the media.
The project is funded under a $953,000 Targeted Watershed Initiative grant from the U.S. Environmental Protection Agency, matched by $458,000 in local funding commitments.
2004 Water Quality Assessment - In 2004, at the request of the Connecticut River Joint Commissions, the New Hampshire Department of Environmental Services, assisted by the Environmental Protection Agency, conducted an intensive water quality study on the 275 miles of the river between the Canadian and Massachusetts borders. Here is what was found about the safety of swimming for the mainstem and many tributaries, arranged in regions from north to south.
Headwaters ~ Riverbend ~ Upper Valley ~ Mt. Ascutney Region ~ Wantastiquet Region
Further information on the quality of New Hampshire waters can be found on the NH Department of Environmental Services' site.
Headwaters Region (Pittsburg to Maidstone/Northumberland)
SAFE for swimming:
First, Second Third, and Fourth Connecticut Lakes
Connecticut River from First Connecticut Lake to Lake Francis
Lake Francis
Connecticut River from Lake Francis to Indian Stream
Connecticut River from the Upper Ammonoosuc River to the confluence of the Israel's River in Lancaster
INSUFFICIENT INFORMATION about safety of swimming, due to conflicting or insufficient data:
Connecticut River between each of the four Connecticut Lakes
Connecticut River from Indian Stream to the confluence of Bishop Brook
Connecticut River from Canaan Dam to the confluence of the Mohawk River in Colebrook
Connecticut River from Cone Brook to the confluence of the Nulhegan River in Bloomfield
New Hampshire tributaries other than Bishop Brook
Vermont tributaries
UNSAFE for swimming, due to bacteria from unknown sources:
Connecticut River from the confluence of Bishop Brook to Canaan Dam
Connecticut River from the Mohawk River in Colebrook to the confluence of Cone Brook
Connecticut River from the Nulhegan River to the confluence of the Upper Ammonoosuc River in Groveton (this reach includes the designated "Natural Segment")
Halls Stream and Bishop Brook
back to top
Riverbend Region (Guildhall/Lancaster to Ryegate/Haverhill)
SAFE for swimming:
Connecticut River from the Israel's River to Mt. Orne Covered Bridge, (as tested five times in 2004, although in previous years, this section was not safe for swimming)
Connecticut River from the confluence of the John's River in Dalton throughout the rest of the Riverbend region
Israel's and Ammonoosuc Rivers
INSUFFICIENT INFORMATION about safety of swimming:
other New Hampshire tributaries
Vermont tributaries in this region
UNSAFE for swimming, due to bacteria from unknown sources:
Oliverian and Clark Brooks
back to top
Upper Valley (Bradford/Piermont to Hartford/Lebanon)
SAFE for swimming:
Connecticut River throughout the region, to the confluence of the White River
Lower Mink Brook
White River
Ompompanoosuc River
INSUFFICIENT INFORMATION about safety of swimming:
other Upper Valley tributaries
UNSAFE for swimming:
Connecticut River from the White River to the confluence of Blow Me Down Brook in Cornish, due to possible bacterial contamination from combined sewer overflows. The 2004 assessment found that swimming was safe based on tests conducted on five different days near the Westboro Rail yard in West Lebanon, under the Interstate 89 bridge, and at Sumner Falls; however, the State of NH will still list this section as not supporting swimming because of the presence of combined sewer overflows in Lebanon. This means that river contamination is more likely to occur during and immediately after heavy storms. This reach also receives treated wastewater from the three plants serving Hanover, Lebanon, and White River Junction.
Waits River in Bradford from the powerhouse to the Connecticut River mainstem, due to bacteria from an unknown source
Mascoma River in Lebanon due to bacterial contamination
back to top
Mt. Ascutney Region (Hartland/Plainfield to Rockingham/Charlestown)
SAFE for swimming:
Connecticut River from Blow-Me-Down Brook in Cornish to the Bellows Falls Dam
Little Sugar River
INSUFFICIENT INFORMATION about safety of swimming:
other tributaries to the Connecticut River in this area
UNSAFE for swimming:
Connecticut River from Lebanon to Blow-Me-Down Brook in Cornish. The 2004 assessment found that swimming was safe based on tests conducted on five different days under the Interstate 89 bridge just above this reach in Lebanon and at Sumner Falls; however, the State of NH will still list this section as not supporting swimming because of the presence of combined sewer overflows in Lebanon. This means that river contamination is more likely to occur during and immediately after heavy storms. The area just upstream also receives treated wastewater from the three plants serving Hanover, Lebanon, and White River Junction.
lower Sugar River, due to unknown sources of bacteria
back to top
Wantastiquet Region (Westminster/Walpole to Vernon/Hinsdale)
SAFE for swimming:
the entire Connecticut River in this region
lower Cold River in Walpole
Ashuelot River in Hinsdale is largely safe for swimming, although it has not been assessed near its confluence with the mainstem.
Vermont tributaries except those listed below
INSUFFICIENT INFORMATION about safety of swimming:
other New Hampshire tributaries
UNSAFE for swimming:
lower nine miles of Partridge Brook in Westmoreland due to unknown sources of bacteria
Sackett's Brook in Putney
Whetstone Brook in Brattleboro
Newton Brook in Vernon
back to top