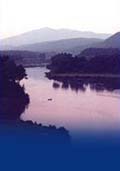 Riverbend Region
(Calendar of Riverbend River Subcommittee Meetings)
NEW - Water Resources (2008)
Recreation priorities (2005)
---
Summary of the Riverbend Subcommittee Plan

1997
---
INTRODUCTION
The Connecticut River assumes many different personalities in its flow through the Riverbend region. Meandering through fertile farmlands and among deep forests, it moves within its flood plain as it has throughout the ages, delivering soil and taking it away again. The river's dramatic drop at Fifteen Mile Falls, once a spectacular series of cascades and waterfalls, has over the years been replaced by three hydro dams and the magnificent expanse of Moore Reservoir. Here, New Hampshire's longest river becomes its largest undeveloped lake.
The river travels 70 miles through the Riverbend segment, between the New Hampshire towns of Lancaster, Dalton, Littleton, Monroe, Bath, and Haverhill, and the Vermont towns of Guildhall, Lunenburg, Concord, Waterford, Barnet, Ryegate, and Newbury.
Most of the land within one quarter mile of the river is sparsely settled farms and forest. Along the river are the larger towns of Lancaster, Littleton, Woodsville, and Wells River, and minor clusters of residential, commercial, and, rarely, industrial development surrounding smaller town centers. Between Guildhall and Northumberland at the northern edge of the Riverbend region is the breached Wyoming Dam. Simpson Paper Company operates a run-of-the-river dam at Gilman, and New England Power Company operates three at the former Fifteen Mile Falls. The 178' high Moore Dam created the 11-mile-long Moore Reservoir, whose shoreline remains essentially undeveloped at this writing because of its ownership by NEP. While the current license permits seasonal draw down of 40' at both Moore and Comerford just downstream, spring draw down is normally 15' at Comerford Dam's 7-mile reservoir, and 30-40' at Moore. The much smaller McIndoes Station creates a 5-mile-long impoundment in the river, where the water level may change by 10' seasonally. The federal relicensing process for the Fifteen Mile Falls developments at Moore, Comerford, and McIndoes began in 1996 and will end in 2001. Just below McIndoes Station, the river enters a four- mile-long, stable impoundment behind the Dodge Falls dam at Ryegate, and then flows unimpounded until it reaches the head of the Wilder reservoir.

OUTSTANDING FEATURES OF THE RIVERBEND SEGMENT
Water Quality: Area residents and businesses recognize that good water quality is important economically as well as aesthetically and ecologically in the Riverbend region, according to a survey conducted for the Subcommittee. The quality of Connecticut River water has improved vastly since 1951, when a government report listed the many thousands of homes discharging raw sewage and the numbers of paper mills and other industries releasing untreated wastes into the river. Today it is not only possible but enjoyable to swim in the river, where several decades ago, such activity would have been unthinkable.
Fisheries: The fishery in the Riverbend region is a mixture of cold and warm water species, with a concentration of coldwater species at the northern end. The heaviest fishing pressure occurs from Moore Reservoir to McIndoes Reservoir, where the fishing is considered excellent. Annual fishing tournaments on Moore Reservoir show good catches of rainbow trout, brown trout, pickerel, yellow perch, smallmouth bass, and other fish. The stretch above Simpson Paper Co. Dam in Gilman is underutilized, mostly due to inaccessibility of the river. Below Dodge Falls Dam in Ryegate, walleye are a particularly important species, and the dam there is presently the limit for upstream passage of anadromous fish. Atlantic salmon are being stocked in the Passumpsic River above McIndoes Station, where some downstream passage is provided.
Habitat: The Connecticut River and its corridor provide a home for many different kinds of plants and animals, in spruce-fir forests to northern hardwood forests and river bottom silver maple stands, setbacks, and oxbows. Hundreds of waterfowl and other birds follow the river during migration in spring and fall. Here in the Riverbend region, habitat in the river corridor is much less fragmented than in more developed areas downstream, allowing wildlife to move more freely and find more cover, most particularly in the thousands of undeveloped acres surrounding Moore Reservoir.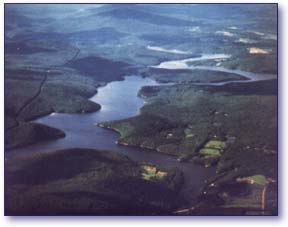 Riverfront farms are also important for some wildlife. Good populations of bear, deer, moose, otter, mink, fisher, and beaver currently exist in the area. A number of those whose populations have been sharply reduced elsewhere still frequent the Connecticut River here, including the bald eagle, osprey, and northern harrier.
Excellent wildlife habitat offers visitors and residents alike a variety of recreation opportunities which benefit the region economically: hunting and trapping, as well as observing and photographing wildlife, are all popular activities dependent upon healthy and varied habitat.
Recreation: Canoeing, kayaking, rafting, sailing, swimming, and fishing are important lower-impact forms of river recreation, while power boating, water skiing, boating regattas, and jet skiing are common higher-impact activities. The river is used here year-round with ice-fishing a popular winter activity on Moore Reservoir. As a result of its ownership by New England Power Company, this 3500-acre water body is singular for its large size and undeveloped state, and is well appreciated in a region that otherwise has many large, intensively used lakes with developed shorelines.
Camping, hiking, bicycling, hunting, picnicking, photography, bird-and wildlife-watching, cross-country skiing, snowmobiling, and touring by all-terrain vehicle are popular forms of land- based recreation along the river. The open scenic views of the river valley provide pleasurable automobile touring, particularly along Routes 10 and 135 in New Hampshire, and Route 5 in Vermont. The scenic nature and good water quality of the river allow river-oriented tourism and recreation to provide an important boost to the local economy, bringing in $26-31 million per year in the New Hampshire towns of the Riverbend and Headwaters regions. (Similar information for Vermont is not available.)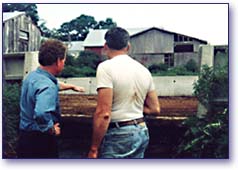 Agriculture: Prime agricultural soils distinguish much of the Riverbend region's flood plain, where moderated temperatures and late fall frosts combine with the fertile soils to provide some of the finest farmland in New England. Dairying has been the primary agricultural activity for over a century, although the number of family-owned farms is declining. The region's working agricultural and forest landscape is appreciated by residents and visitors alike. Products of the land are the direct economic mainstay of the area, and there is secondary economic benefit to the region through visitors attracted by this landscape, and a resource-based quality of life that appeals to year-round working residents.
Forestry: The forest products industry is a major economic force in the Riverbend region. Forested areas in the corridor vary from large tracts to small strips which border the river, interspersed with open farmland or developed areas. NEP holdings are, as of this writing, in active forest management, except for 500 acres leased to local farmers. Forest land is intimately associated with the health of the river, affecting its water quality, its wildlife habitat, its fishery, and the extensive variety of recreational opportunities it offers.
Historical/Archeological Resources: Agriculture and the forest products industry have a long and rich history associated with the river. Today, historic rural and agricultural landscapes and building complexes remain, interspersed with village clusters that retain their nineteenth century flavor. Evidence of earlier occupation by our predecessors is more elusive, but has been found in several places along the river.

POTENTIAL USES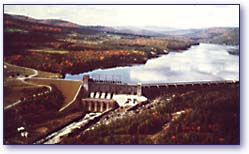 There is considerable potential for economic benefit from expansion of low impact recreation with proper management, including: public access at the Wyoming Dam site and canoe/cartop access and conversion of abandoned railroad corridors to trail corridors in Barnet; bicycle routes, shoulders, or paths; trails next to the river for improved access from Littleton to Moore Dam; and overnight campsites, riverside parks, picnic areas, and roadside pullouts. Appropriate signage could be useful at access points. There is potential for an outfitting business at Moore Dam, especially trucking assistance with the portage. Educational field trips could help encourage tourism attracted by the Riverbend region's cultural and natural history, bringing dollars into the area by respectful visitors' ("heritage tourism"). More scientific research could take place in undeveloped environments. Moore and Comerford Reservoirs could be premiere multiple species fisheries with proper management, and there is good potential for an excellent tailrace fishery below Comerford Dam.
In agriculture, barley and other small grains could be a healthy alternative crop, particularly with better marketing, to allow greater opportunity for crop rotation. Use of minimal tillage offers increased potential for biological diversity on agricultural lands. A regional farmers' market, organic vegetable farming, and more utilization of manure as a cash crop all offer potential areas for expansion. There could be better management of the tourist crop through agri-tourism, sleigh/hay rides, (which could provide another market for hay), and "open barn" days. Strong potential exists for more value-added uses of forest products.
Adaptive reuse of historic buildings and encouraging new development that minimizes visual disturbance of agricultural landscapes could help preserve the community character that is so attractive to both residents and visitors.

CURRENT PROBLEMS AND THREATS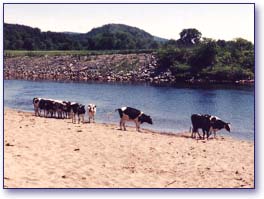 Water Quality: Organic enrichment, sedimentation, and fluctuating flows are the primary water quality threats in this region. Three of the major tributaries entering the Riverbend segment, the Passumpsic, Ammonoosuc, and Wells rivers, are adding nutrients to the mainstem waters. These, plus upstream point sources (three paper mills) and nonpoint sources (including but not limited to farms) combined with the longer time these pollutants spend in the impoundments may be over- enriching the waters, as shown by the type of river bottom life found in water quality studies. Other sources of nutrient pollution include combined sewer overflows at the St. Johnsbury wastewater treatment plant and improper manure disposal on some farms. Heavy cutting, when it occurs, can change the water retention ability of the watershed and lead to increased runoff and sedimentation, which can pose a number of problems downstream, including at industrial water intakes. Bank erosion and loss of river bottom land is a significant problem, particularly in Haverhill.
Fisheries: The Riverbend region's fishery may not be quite as good as it once was, due to fishing pressure and decreased productivity, particularly in the impoundments. There is a need for greater cooperation between Vermont and New Hampshire on the part of both biologists and enforcement officials. Bank erosion caused by boats, water skiers, and water level fluctuations causes sedimentation, perhaps the most important threat to fisheries.
Habitat: The largest threat to habitat in the region may be the loss and development of significant, relatively unfragmented areas now owned by New England Power Company, should the company decide to sell these lands. The decline of dairy farms also poses a concern for the reduction of the wildlife habitat they provide. Variable water levels may disrupt instream and shoreline habitat, and forest habitat is threatened by imported conditions such as acid rain, hemlock woolly adelgid, and gypsy moth. Introduction of exotic pests such as the zebra mussel could disrupt habitat and food chains of native animals. Deer yards in particular may be lost through failure to follow best management practices in timber harvesting. Finally, while much information is being assembled about rare plants and animals which presently or previously lived in the region, there is concern that the data used may not be entirely reliable, leading to poor management decisions.
Recreation: Development of the Moore Reservoir area could diminish its value for recreation, with a subsequent economic effect on recreation-dependent businesses.
Impounded segments of the river are now experiencing a maximum level of high impact use. As the river becomes increasingly popular for recreation, there is concern that existing boat speed laws, drunk boating regulations, and others may not be adequately enforced by the states. Many boaters are either unfamiliar with the regulations or disregard them. This is an economic and environmental as well as a safety issue because boat wakes are causing bank erosion in sensitive areas, particularly where the river is too narrow to permit travel above headway speed. Further access for power boating would demand a level of enforcement that does not now exist.
Other concerns include: damage to riverfront property and associated costs to landowners and taxpayers; safety concerns; the reliance of power boating and the required facilities on non-renewable resources; maintenance costs; and loss of the peaceful atmosphere appreciated by the people of the region. In the past, unauthorized camping has led to vandalism, littering, and damage to the shoreline and vegetation, problems which have been corrected with vigilant supervision by New England Power Company. Four-wheeled off-road recreational vehicles have at times eroded the earth fill on Moore Dam. Inadequate foot and cartop boat access opportunities have led to trespassing and abuse of private property by recreationists. On the reservoirs, water level fluctuations can impact fishing and boating activities, and below the ice on Moore Reservoir, can present a safety hazard for vehicles.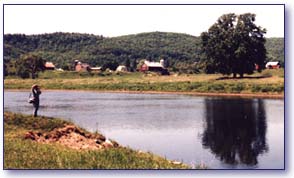 Agriculture: A farmer is unable to pass many of the rising costs of doing business on to the consumer, including needed pollution remediation or prevention practices and devices. Bank erosion and loss of valuable river bottom land are a constant specter. There is a sense that local agriculture and forestry are not adequately appreciated by the general public, and better marketing of local products is a key need. Farmland trends show a general decline in the number of farms, their acreage, and the proportion of harvested cropland, raising the prospect of the loss of key agricultural support infrastructure. The farming population is declining and fewer young people are entering farming. Conversion of agricultural land to non-agricultural uses is a concern, because this land is difficult and expensive to reclaim once natural succession is underway. The emerging trend toward megadairies requires vigilance toward proper management and facilities to avoid pollution when more animals are crowded onto a smaller piece of land.
Forestry: Landowners and the forest products industry should be aware of growing negative perceptions of forestry by the public, particularly an objection to heavy cutting and slash disposal near waterways. Major clear cutting on steep slopes near the Connecticut River can damage highly valued scenic views of the valley, and could cause erosion that sends sediment into streams, threatens fisheries, and accelerates the build-up of sediment behind dams. Water quality could also be threatened by siltation from improperly constructed skid roads and inadequate buffers. At the same time, the industry is suffering from high trucking costs to distant markets and the high costs of workmen's compensation.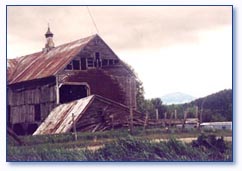 Historical/Archeological Resources: Historic sites can be threatened by decay or indifference on the part of their owners. This could be particularly true of the decay and removal of agricultural outbuildings by non-farming owners or by owners seeking to avoid paying taxes on an historic barn. Historic bridges are usually retained during bridge upgrading projects, but may deteriorate if they are taken out of service and maintenance funds are not available. Historic agricultural landscapes may be lost to development or fragmentation of the farm. While some riverfront communities are taking active steps to maintain the identity and economic vitality of their historic down towns or village clusters, sprawling development remains a threat. Archeological sites are endangered by looting and by exposure to bank erosion, such as in Haverhill.

OBJECTIVES
The Riverbend Subcommittee seeks a prosperous rural lifestyle with quality leisure time, and recreational opportunities in a pleasing, clean environment. Clean shorelines that are stable are part of this healthy environment, as are abundant, healthy and safe food, water, and air.
The river could become a "premier multiple species fishery" with additional stocking if there is no coexistence problem with current resident species. We should work towards returning the river to a condition where fish restocking programs are no longer needed because sustainable populations will develop and thrive. Multiple uses of the region should be balanced with wildlife requirements through conservation rather than strict preservation. The lands surrounding Moore Reservoir should remain undeveloped.
A prosperous farming community, growing quality products which command a good price, requires a future resource base of healthy, functional farms, forests, and watersheds that are forming rather than losing soil, and ensuring good water quality. Good forest management should provide a sustainable harvest and provide raw materials and jobs for the forest products industry while maintaining water quality and a healthy recreation and tourism industry. Farmers, towns, state and federal agencies, and farm bureaus should cooperate to improve the economic standing of Riverbend farms and their ability to protect water quality through financial incentives, market promotion, education, and encouragement of a stronger sense of community.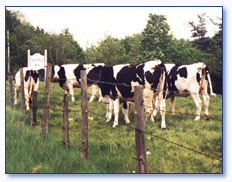 These objectives should be met primarily through education of Riverbend region residents and visitors, and by better enforcement of existing regulations. The Riverbend Subcommittee recognizes that the health of the river has always been and will remain largely in the stewardship of local landowners. The Subcommittee encourages democratic participation in planning for the river through public education and empowerment in conservation, building coalitions, and identifying those conservation programs and practices currently in place which are working well.
This plan hopes to offer a choice of options, not a single model ordinance, to protect the economic and environmental values of the Connecticut River. While the recommendations of this plan are directed toward the quarter-mile corridor of land bordering the Connecticut River, consideration of these recommendations on a more general scale could benefit the river, its tributaries, and the region as a whole.
Continue to Recommendations >>