Beginning in cold springs high in the Great North Woods, the Con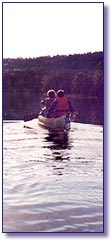 necticut River quickly gathers volume and takes on multiple personalities. It turns sedately through vast pools and lazy eddies, then dashes down between boulders. Canoeists and kayakers can choose either swift, challenging water, or a quiet, flatwater paddle. Paddling is a popular, inexpensive, and easy way to enjoy this American Heritage River.
Special conditions on the Upper Connecticut
Be aware of changing water levels: The Connecticut River's flow - and depth - can change daily, and even hourly. Be alert! Beach your craft high above the water line when camping at night, and tie it up. Don't get stranded or caught off guard. TransCanada provides web-based information on current and forecasted flows below its dams, with instructions on the phone number to call for the details at each dam.
Plan on extra time if you encounter a headwind: a brisk south wind isn't unusual, and can blow you upstream as fast as the current brings you down, particularly in flatwater and impounded sections.
Riverbanks are prone to erosion: avoid climbing on exposed or steep banks or disturbing plants -they help hold the bank in place. Launch your kayak or canoe at a stable access.
Pay attention to portages, especially at Lyman Falls, the breached Wyoming Dam, and Sumner Falls.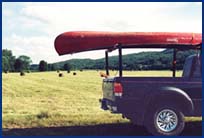 Respect the rights of riverfront landowners
use public access sites to launch your craft
use designated campsites - access to these first-come-first served sites is from the water only (please do not attempt to reach a campsite by crossing private land, or use a private site; sites open to the public are clearly marked)
carry out all of your trash
respect fences, crops, and private property
treat the riverbank with care
extinguish campfires thoroughly
ask permission before crossing private land
More riverfront landowners are driven to post their land every year, frustrated by the damage done by recreationists who use their property without permission. Most landowners are glad to have you enjoy their property. Be a good guest.
Maps of the Upper River: Connecticut Lakes to the Massachusetts line
Paddlers' links for the Connecticut River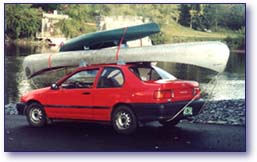 Connecticut River Primitive Canoe Campsites (from McIndoe Falls, Monroe NH to the Massachusetts border)
Northern Forest Canoe Trail (and North Country campsites)
Vermont River Conservancy
North Star Canoes
Hemlock Pete's Canoes
Dartmouth College's Ledyard Canoe Club
AMC Boston Canoe Chapter
American Canoe Association
American Whitewater Affiliation
Vermont Outdoor Guide Association