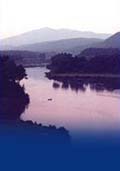 Mt. Ascutney Region
(Calendar of Mt. Ascutney River Subcommittee Meetings)
Recreation priorities (2005)
---
Summary of the
Mount Ascutney River Subcommittee Plan
1997
---
INTRODUCTION
The Mt. Ascutney Region River Subcommittee includes the New Hampshire towns of Plainfield, Cornish, Claremont, and Charlestown, and the Vermont towns of Hartland, Windsor, Weathersfield, Springfield, and Rockingham. The Subcommittee has concentrated its planning upon the 39 miles of the Connecticut River in this segment and the land adjacent to the river up to Route 12A in New Hampshire and Route 5 in Vermont. The Subcommittee has formally considered a number of aspects of this corridor: the water quality, the fisheries, the habitats, agriculture and forestry, recreation, and development. For each category, we have tried to identify current and potential problems, as well as opportunities. Finally, we have made recommendations which we feel represent a positive, consensus-based response to these problems.


OUTSTANDING FEATURES OF
THE MT. ASCUTNEY RIVER SEGMENT
The river's designations in the New Hampshire Rivers Management and Protection Act reflect the predominantly rural and undeveloped character of the land in this corridor. The character of the river itself, however, is distinctly different in the northern and southern sections. In the northern 18 miles the river is shallow and flows rapidly, dropping through Sumner Falls and numerous other rapids and riffles. Below the Claremont/Ascutney Bridge, the river is deeper and more slow moving, impounded behind the hydroelectric dam at Bellows Falls.
Fisheries: The fast-flowing northern section provides particularly valuable cold-water fishery habitat, although the trout population is not strong. The warm water fishery of the Bellows Falls impoundment has gained attention as a fine bass fishery, attracting bass tournament fishermen. Largemouth bass beds occur in all river setbacks, where winter ice fishing is also popular.
Habitat: The region from Weathersfield Bow north beyond the Mt. Ascutney Region has become known to biologists at the U.S. Fish and Wildlife Service and EPA as the Connecticut River Rapids Macrosite, because of its concentration of ecologically significant habitats and its populations of rare, threatened, and endangered species, some of whom are recognized on a federal or even global level. The confluences of tributaries are also important aquatic habitat areas.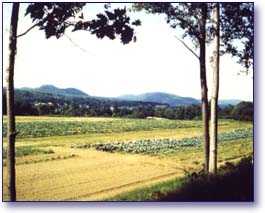 Agriculture: Some of the best agricultural soil in New England is found here along the Connecticut River. Extensive flat, tillable land is a rare resource in the states of Vermont and New Hampshire. These light, sandy, stone-free soils are outstanding for cultivation and easily worked early in the spring, and the riverside microclimate provides an extended growing season. While a variety of crops are raised and marketed success-fully here, there is potential for an even richer variety and a stronger economic contribution. In some cases this agricultural land functions as flood plain, which is essential in reducing flood damage. Flat land on terraces above the river is also highly valued for residential and commercial development, which inevitably conflicts with long term agricultural use.
Recreation: Swimming, fishing, boating, camping, hiking, bicycling, and auto touring along the river are popular recreational activities. The northern section is a favorite with canoeists who savor the river's free flowing character and the rural scenery on the shores. Sumner Falls offers a chance for advanced paddlers to play and practice in heavy white water. Below the Ascutney Bridge, the river is popular for use by powerboats as well as canoes. Hoyt's Landing in Springfield is one of only three sites in Vermont accessible to persons with disabilities. There are two marinas in the region, one off-river in Charlestown, and another on the river in Rockingham. Abundant scenic views are a major tourist attraction and make the Mt. Ascutney Region a desirable place to live.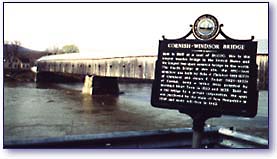 Historical and Archeological Features: The entire river corridor contains densely clustered archeological resources, evidence of early human occupation along the river's rich bottom lands. Exemplary Federal and Greek Revival buildings are common, along with later architectural styles. Many of the village districts and individual historic sites in the corridor are listed on the National Register. Rural agricultural landscapes and building complexes along the river are also of historic value. Historic sites draw thousands of visitors each year, benefitting both the attractions themselves and the lodging, restaurant, and other service industries in the area.


POTENTIAL USES
A catch and release fishery has potential in this region. Higher perch and bass populations may be possible with better management of water levels at spawning time, and the walleye fishery could be very good with an increase in minimum catch size or perhaps with stocking. There is potential for a Atlantic salmon fishery in both the tributaries and the mainstem.
There could be expanded markets for local agricultural products, including a farmers' market which focuses upon farm products rather than baked goods or crafts, and horse-drawn sleigh and wagon rides for the large tourist industry, which in turn could support another market for hay. Hobby farming offers an opportunity for keeping land open and maintaining demand for infrastructure and support services. There is potential for more diversified agriculture, including more maple sugar production, more utilization of manure as a cash crop, increased local production of beef and lamb, production of specialty foods at commercial cooks' kitchen, more value-added dairy products, and locally bottled water. Grower cooperatives could be established and expanded. Farmers could explore composting of biosolids, leaves, and other organic waste.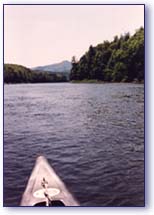 Potential recreational opportunities include access for cartop boats and foot traffic at Plainfield and Windsor, kayaking competitions at Sumner Falls, and biking or walking paths. There are opportunities for scientific research into species and habitats of the Macrosite, and more people could enjoy birdwatching here. Increases in both agricultural operations and tourism oriented around the region's strong natural and cultural heritage ("eco-tourism" and "heritage tourism") are appropriate in the corridor as long as they are sustainable. The Herrick's Cove area has hosted the region's largest antique steamboat rally, and offers potential economic benefits.


CURRENT PROBLEMS AND THREATS
Each user of the river has individual requirements and preferences. When these requirements conflict, there are likely to be problems. A variety of these problems are identified below.
Water Quality: Water quality throughout this segment has improved dramatically in the last 25 years. This is a great achievement, but it has led to the increase in activities such as swimming and fishing which demand even cleaner water. Nonpoint sources of pathogens, siltation, and organic enrichment threaten water quality in the Mt. Ascutney segment of the Connecticut River. Bacterial pollution can sometimes make swimming dangerous after heavy rains. Organic matter and nutrients are entering the reach from streambank soils, agricultural runoff, and tributaries like the Black and Sugar rivers. The slower water in the Bellows Falls impoundment may be partially responsible for the algal blooms seen in backwater areas, such as the mouth of the Black River, where heavy mats of algae impact fishing, boating, swimming, and river aesthetics in the warmer months.
Other concerns include unwise salt use and storage, snow dumping in the river, industrial soil contamination, and household contributions of detergents, fertilizers, and pesticides. Runoff from roads, parking lots, and upstream riverfront commercial development may deliver contaminants such as petroleum products, lead, oil, salt, and litter to the river.
Fisheries: This segment is a generally healthy and heavily used fishery, however, pollutants threaten the health of the fish populations and the humans who eat them. Concern exists for the discovery in 1986 and 1987 of chromium and PCBs in fish tissue in this region, and the possible contamination of mainstem and tributary sediments with such pollutants. As fish are regularly taken here for food, particularly perch and walleye, there may be a health risk in eating these fish. In the impoundment, water temperature can rise and movement varies in speed, allowing pollutants to settle into deep holes which may not flush effectively. Organic enrichment appears to be impacting the aquatic macro invertebrate population, and perhaps fish dependent upon them. Bank erosion, which is severe in some places, can be a major threat to aquatic life, and contributes sediment which cover fish spawning beds. Boat wakes caused by water-skiers and high-speed boats contribute to bank erosion with a subsequent impact upon fisheries.
There are threats to the quantity and diversity of species in this fishery. Water level manipulation by the Bellows Falls Dam often leaves bass and perch eggs out of water.
Habitat: The health and diversity of aquatic and riverine habitats face threats from several areas. Habitat fragmentation and loss are occurring through development as well as by stabilization of the riverbank with riprap. In addition to the threats to aquatic life posed by diminished water quality, variable water levels may temporarily or permanently eliminate instream and shoreline habitat. Traffic by power boats may disrupt riverbank habitat in the southern portion. Milfoil has been found at the Springfield boat landing; this and other exotic aquatic plants and animals such as the zebra mussel could drastically alter the biological community of the river, and could also pose a significant nuisance to fishermen for boat maintenance. Zebra mussel infestation is considered a strong threat in this region due to the river's hospitable water chemistry, heavy use by visiting boaters, and easy highway access from infested waters such as Lake Champlain. The potential introduction of zebra mussel is likely to severely impact other native mussels, including endangered species.
Agriculture: Agriculture is important within the corridor, with many successful farm-based businesses. However, this key traditional riverfront land use is threatened. Some factors, such as commodity agricultural prices and the funding level for the Cooperative Extension Service, are beyond any local control. The loss and fragmentation of farmland for industrial and residential development is a more local problem, but just as severe. There is a lack of clarity relating to water withdrawals for irrigation. Regulations and advised practices for registration of water withdrawals for irrigation on the New Hampshire side of the river are not presently mirrored on the Vermont side. There is concern that instream flow rules might limit irrigation where and when it is most urgently needed.
Recreation: Use of the river corridor for recreation is increasing dramatically, as it is on waterfronts throughout New Hampshire and Vermont. There is a fundamental threat to most recreational activities when water quality is degraded. Water quality is diminished after storms due to combined sewer overflows at sewage treatment plants upstream and from nonpoint sources. Persistent trash problems are occurring on the riverbank at boat landings. Inadequate enforcement of the existing boat speed laws threatens boater safety and bank stability. Conflicts will likely increase between canoeists and power boats, and with jetskis. Sumner Falls continues to be dangerous for the inexperienced or the careless.
Development: Development in the corridor is a problem for two basic reasons. First, the river is a force of nature which tends to work inexorably to carry away anything near it. Building in the flood plain reduces flood storage and risks property loss through erosion. Some buildings and sections of road are located too close to the river and may require use of riprap or other costly erosion control. Landfills and septic systems sited too close to the river, particularly given its potential to erode, threaten water quality and investments. A second type of problem for development is that land in the corridor is regarded as a regional asset. Development near the river, including floodlighting, can destroy scenic views. Gravel pits and landfills are also likely problem areas.
Historic/Archeological Resources: Historic structures are threatened by decay and inflexible building code requirements. The identity of historic village clusters and the beauty of historic agricultural landscapes are easy prey for inappropriate industrial, commercial, and residential development. Bank erosion and looting threaten archeological sites. Commercialization in response to tourism in the area could undermine historic character and be its own undoing.


OBJECTIVES
The primary objective of this plan to see that the many resources of the Connecticut River are used and enjoyed in an equitable, sustainable manner. We have identified three general directions which serve to move us toward this objective. First, we should support actions which preserve, promote, and improve agriculture in the corridor. Most of the property along the river is owned by individual landowners who will continue to play a key role in habitat conservation. Because of the high quality of river bottom soils for farming, the microclimate along the river, and the extraordinary scenic value of riverfront farms, the corridor management plan hopes to support and ensure the continuation of existing farms and to encourage growth in agriculture within the river corridor, while minimizing any negative effects of agricultural activities upon the river.
Second, we should take actions which discourage construction and land use conversion in the corridor. Minimal land disturbance activity, other than agriculture, should take place in the flood plain in order to protect investments, bank stability, water quality, and habitat, given the potential for riverbank erosion and channel movement. Towns should encourage a balance of uses in the river corridor while recognizing that its long-term economic value, for tourism, agriculture, recreation and development, depends upon retaining its present rural character. Economic development supported by increased heritage tourism will benefit from the preservation and use of historic structures without loss of their historic fabric and character.
Finally, we should move away from a water flow management that is focused primarily on hydroelectric power generation. Water level management should be better understood by the area's residents and better accommodate other uses and values of the river besides hydro power.
Continue to Recommendations >>