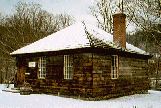 Site: V07-6
Municipality: Springfield, VT
Location: Route 11, Goulds Mills
Site Type: School
Vt Survey No: 1418-31
UTMs: (Zone 18) E: ?. N: ?

National Register Nomination Information:
DESCRIPTION:
The Eureka Schoolhouse is a small one room building of hewn timber construction with wooden pine board siding cut in such a way as to simulate cut stone blocks. The building was dismantled and stored for many years and was restored at its present location in 1968. Since completion of the schoolhouse one of the earliest covered bridges in Springfield, Vermont, has been moved to the site and work is under way to establish the surrounding area as an historic roadside park between Vermont Rt. 11 and the Black River outside of Springfield, Vermont.
The Schoolhouse has been restored using all of its original material which was carefully marked before it was dismantled. The interior of the Schoolhouse was furnished with desks, maps, books and other schoolroom equipment of the 19th century. Two of the school desks and many of the books were original to this schoolhouse.

STATEMENT OF SIGNIFICANCE
The Eureka Schoolhouse was built in 1785 and is the oldest surviving schoolhouse in Vermont. It was used continuously until 1900. It was restored in 1968. Its present site is a few miles from its original location which was not suitable for a restored building. The Eureka School was attended by many children who were later to become prominent Vermont citizens and is one of the few surviving 18th century public buildings in Vermont.

MAJOR BIBLIOGRAPHICAL REFERENCES
Eureka, The First Village in Springfield, Vermont, Ellis, Mary W. Historical Committee of Miller Art Center, Springfield, Vermont. 1959.

FORM PREPARED BY: William B. Pinney, Director of Historic Sites, Vermont Board of Historic Sites, 7 Langdon Street, Montpelier, VT. Tel: not given. Date: December 17, 1969.
DATE ENTERED: March 11, 1971.
(Source 127)