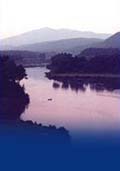 Water Resources in the Headwaters Region
---
2009 - This new Water Resources plan is an expansion and update of the Water Quality section of the 1997 Connecticut River Corridor Management Plan. The result of three years of discussion and consensus by a diverse group of citizens representing their riverfront towns, the plan fulfills the requirements of the New Hampshire Rivers Management and Protection Act, RSA 483. It explores water and sediment quality, fish tissue toxins, instream flow and flood management, dams, groundwater issues, point and nonpoint pollution sources, erosion, the effects of land use on water quality, and the condition of tributaries, among other topics. The plan offers a valuable guide to local officials and landowners intent upon improving the condition of the Connecticut and other local waters.
---
Connecticut River Water Resources Management Plan
- Headwaters
Maps:
---
Responsiveness summary - response to comments received on the 2007 draft

Produced with support from the NH Department of Environmental Services, the National Oceanic and Atmospheric Administration, and US Gen New England.