Headwaters Region
(Calendar of Headwaters River Subcommittee meetings)
NEW - Water Resources (2008)
Recreation priorities (2005)
---
Summary of the Headwaters Subcommittee Plan -
1997
---
INTRODUCTION
The Headwaters Subcommittee believes firmly in the right of each citizen to use and enjoy both his own property and the Connecticut River, and that the most effective protection of the river has come and will continue to come from private landowners. The Subcommittee also recognizes that the Connecticut River is a public resource that is significant to the quality of life for Headwaters region residents. The river draws many visitors as well, and plays a multi-million dollar role in the economic well-being of the region.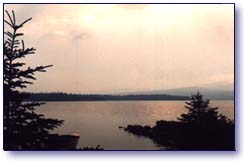 The actions of a private landowner can affect the quality of both public waters and private property downstream. Therefore, the Headwaters Subcommittee considers that it is appropriate for all landowners to participate as caretakers of the river to benefit both themselves and their neighbors. Private landowners can voluntarily be a big part of both problems on the river and their solutions. Communities can also take action to keep the Connecticut River the valuable economic and environmental resource that it has long been to their citizens.
The Headwaters segment runs 80 miles from the river's source at Fourth Connecticut Lake at the Canadian border in Pittsburg, New Hampshire, south to Northumberland and Maidstone, Vermont. The Subcommittee region includes the New Hampshire towns of Pittsburg, Clarksville, Stewartstown, Colebrook, Columbia, Stratford, and Northumberland (Groveton), and the Vermont towns of Canaan (Beecher Falls), Lemington, Bloomfield, Brunswick, and Maidstone.
There are five active dams on the mainstem of the Connecticut River here, at Moose Falls, Second Connecticut Lake, First Connecticut Lake, Lake Francis (Murphy Dam), and Canaan. There are two breached dams which have not been redeveloped, one at Lyman Falls and the other at Northumberland/Guildhall (Wyoming Dam). Murphy Dam and Moose Falls are owned by the State of New Hampshire. New England Power Company currently operates all except the Canaan dam, which is operated by Public Service Company of New Hampshire. State-approved plans exist for an additional dam, known as the Baldwin Dam, at a falls just below Pittsburg Village.


OUTSTANDING FEATURES OF THE HEADWATERS REGION
Water Quality: Good water quality is an important economic as well as recreational and ecological resource for the Headwaters region. Based on water quality studies, the Connecticut River mainstem here offers some of the best swimming in the entire river. Outstanding river uses and values that depend upon the present excellent water quality also include boating, wildlife habitat, and productive fisheries.
The free-flowing nature of much of the river in this segment is especially valued, because it ensures that river water is well oxygenated and so allows the river to assimilate the treated wastes it now receives.
Studies indicate a river in excellent condition in the segment above the confluence of the Upper Ammonoosuc River in Groveton. In almost all of the segment, the river bottom is swept clean, and is not embedded with fine particles or organic matter. Dissolved oxygen is adequate for the more sensitive species of fish and the aquatic creatures upon which they feed, and the water is free of large algal growths. Below Groveton, some of these conditions begin to change.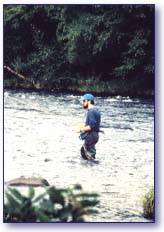 Fisheries: The Headwaters reach of the Connecticut River is considered one of the finest coldwater fisheries in the eastern United States. This remarkable resource is an important key to the quality of life for local residents and to the economy of the region. The brook trout is the original native species, found throughout the segment. It is sensitive to pollution and is relatively easy to catch. Brown and rainbow trout supplement dwindling numbers of native brook trout. Landlocked salmon which originate in the Connecticut Lakes are sometimes found in the river as far downstream as the upper end of the Moore Reservoir.
Habitat: A rich variety of habitat types is concentrated in the area immediately adjacent to the river, from the oxbows, wetlands and setbacks associated with the river's edge, to the fertile floodplain and remnants of its forest, to the ledgy uplands and shorelines of the Connecticut Lakes. Wetlands offer highly productive habitat for wildlife, and also filter pollutants and reduce the effects of flooding. The diversity of wildlife depends upon the health and diversity of available habitat. Here in the Headwaters, habitat is much less fragmented than it is in more developed areas downstream, allowing wildlife to move more freely and find more cover. Riverfront farms are important for certain kinds of wildlife, most notably game birds, and offer mixed habitat of open fields, fence rows, and wooded land.
Hunting, trapping, observing, and photographing wildlife are important forms of recreation in the Headwaters Region, where there are strong populations of bear, deer, moose, otter, mink, fisher, and beaver. The river functions as a corridor for migrating birds and other species which take advantage of the slightly milder conditions near the river before passing into the uplands as spring proceeds. Many of the birds using this habitat prey upon forest insects such as the spruce budworm. Conserving the integrity of their habitat may well contribute to the health of forests in the region and beyond. The Connecticut Lakes also offer an important staging area for migration of waterfowl and other birds in the fall.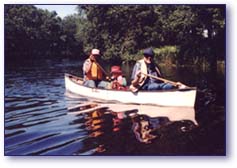 Recreation: The scenic nature and valuable water quality of the river allow river-oriented tourism and recreation to provide an important boost to the local economy, bringing in $26-31 million dollars per year in the New Hampshire towns of the Riverbend and Headwaters regions, and residents have noticed a significant increase in river-related recreation during the last several years. (Similar information for Vermont is not available.) Both residents and visitors enjoy swimming, fishing, boating, camping, hiking, bicycling, snowmobiling, and simply driving along the river and the Connecticut Lakes, enjoying the view. Scenic free-flowing waters and rapids provide a highly valued canoeing experience, especially popular along the seven-mile designated natural segment, and existing impoundments add an appreciated diversity of fishing and boating experiences. The seventy- mile segment of uninterrupted boatable water between Canaan Dam and Gilman Dam is longer than any other boatable segment in Vermont. Camping currently takes place on private lands.
Agriculture: Connecticut River Valley floodplain soils of the Headwaters area are among the most productive agricultural soils in the North Country. Over half of the acreage located within one half mile of the river on the New Hampshire side is composed of prime agricultural soils. Products of the land are the direct economic mainstay of the area, and there is a secondary economic benefit to the region through visitors attracted by the region's appealing and hard-working agricultural and forest landscape.
Forestry: Forest land is key to the overall health of the river: it is the principal component of the economic, visual, wildlife, fisheries, water quality, and recreational resources of the Connecticut River in the Headwaters region. The forest industry is a major landowner, major employer, and major contributor to local taxes.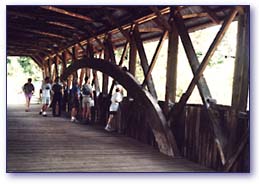 Historical and Archeological Resources: The cultural heritage of the Headwaters region is closely interwoven with its natural history, and especially with the Connecticut River. Today, historic agricultural building complexes and the working lands surrounding them are perhaps the most important evidence of a resource-based economy that still continues here. Many village clusters retain their nineteenth century flavor, attended by stone culverts, covered bridges, dirt roads, and stone walls. Archeological sites along the river remind us that our culture was not the first to use the river.


POTENTIAL USES
Better natural reproduction of trout should be possible. Farmers could use assistance to plant forage crops on land they no longer use, allowing them to justify keeping this land open and offering a boost to game birds and other wildlife. Other potential uses are habitat conservation, scientific research, and "eco-tourism," including educational field trips and low impact recreation. There could be a greater variety of possible canoeing/kayaking trips with more access alternatives. Abandoned railroad beds could be used for trails. There is potential for increased production and markets for value-added forest and dairy products, maple sugar products, beef and lamb including Holstein dairy beef, local fruits and produce, locally bottled water, and even manure as a cash crop. More part-time farming can help keep the agricultural infrastructure viable, and a regional farmers' market, a commercial cooks' kitchen, and small local dairy processing plant could provide useful ways of getting local products to the public.


CURRENT PROBLEMS AND THREATS
Water Quality: Sedimentation and turbidity may be the most important water quality problem in the Headwaters region. The river can run light brown after storms. While riverbank erosion is a naturally occurring process, particularly where tributary watersheds are steep or where the river is actively meandering, it adds sediment that can smother fish spawning areas and nutrients that can contribute to growth of algae. Brown, silt-laden water is not inviting for swimming or boating, and ruins a fisherman's day.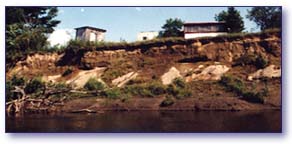 Bank erosion can be accelerated by human activities, including unwise logging practices. Siltation can come from improperly built stream crossings or skidder trails or harvesting when soils are prone to erosion. A 1995 inventory of riverbank erosion sites in Coos and Essex counties found that the river appears to be most active in the Brunswick/ Stratford/ Maidstone/ Northumberland section, where it meanders sharply, and that most of the moderate and severe erosion sites occur on agricultural land. Riverbanks with no vegetative buffer at all tended to have a higher rate of erosion, especially in combination with lack of vegetation due to livestock grazing and trampling. The water quality of the river and its safety for swimming depend partly upon keeping animal waste from washing into the river as much as is practicable. Some farms in the region are not yet able to provide adequate storage for a long winter's accumulation of manure, and need assistance in building good storage. The quality of the river's water could also be threatened by uninformed land application of biosolids, short fiber paper sludge, septage, or wood ash, if current soil conditions and crop requirements are not well considered.
Fisheries: Minimal fish reproduction occurs under present management policies, and trout populations depend heavily upon stocking. The potential exists for over fishing in the Headwaters segment, particularly as the quality of the fishery becomes better known outside the region and should access to the river be expanded.
Trout and their kind require clean, cool water with abundant dissolved oxygen. They are threatened by low oxygen during critical times, particularly in July and during iced-over winter months. Cascades and riffles, including breached dams, add essential oxygen to the water, but it can also be used up in absorbing extra nutrients entering the stream from manure runoff, over fertilization of home landscapes by homeowners, and direct deposits by cattle and other animals with access to the river. Since warmer water cannot hold as much oxygen as cold water, increases in water temperature also threaten trout. Sun-baked stone riprap can raise the temperature of a stream in summer, as can an impoundment where water slows and has a chance to warm up. Therefore, any additional delay of flow at critically low water periods is potentially damaging to the river's fisheries below Lake Francis.
Sedimentation and turbidity also threaten aquatic habitat in the river and its feeder streams. Upstream activity can damage downstream fisheries, such as when siltation from upstream timber harvesting in 1972 covered smelt eggs and decimated the smelt population in First Connecticut Lake. Spawning and rearing habitat in the bypass reach of the Canaan hydroelectric project can be reduced during low flow, and seasonal draw downs from the Connecticut Lakes and Lake Francis cause unnatural fluctuations in river flows which can affect the food supply for fish. Limited wintering habitat in the river is due to the limited cross-sectional area available, which is in turn influenced by flowage rates, ice formation, and their effects on dissolved oxygen in winter pools.
Habitat: Threats to wildlife and their habitat are posed by the decline of dairy farms, residential and second-home development of waterfront lands, and loss of deer yards. On the lakes, boaters can disturb nesting loons, leading to nest and chick loss. Introduction of the zebra mussel pest from outside the region, by boaters who fail to properly clean their boats before launching here, could pose a severe threat to the food chains that support fish.
Recreation: Disregard of private landowners and their property by the visiting public is a persistent problem. The public often uses private lands for launching boats and camping, sometimes without the permission of landowners, leaving trash and causing damage to crops and the riverbank. Lack of reciprocity between Vermont and New Hampshire snowmobile clubs can lead to difficulties over trail use. There is danger to bicyclists from trucks and other traffic on Route 3.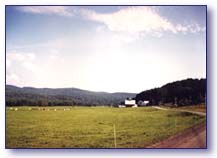 Agriculture: Headwaters farmers are facing not only a general economy that provides insufficient support, but also an attitude among distant buyers and policy-makers that food cannot be effectively produced in this northern region. Farmland trends during the last decade show a general decline in the number of farms, their acreage, and the proportion of harvested cropland. Costs are rising sharply while product sales cannot keep pace. Specifically, slaughterhouses in New England are inadequate and the price offered for lamb is artificially low due to competition with foreign producers. A continued decrease in clientele may discourage seed and feed dealers, equipment suppliers, and the other support infrastructure upon which local farmers depend. While some farmland is being converted to residential use, the majority is simply falling out of active agricultural use, for which substantial effort would be required to bring it back into production. Farmers are also under economic pressure to sell land to developers for second homes, particularly along shorelines.
Unlike other businessmen, a farmer is unable to pass many of the costs of doing business on to the consumer, including pollution remediation or prevention practices and devices, and farmers are discouraged by the level of interference in their activities by state and federal agencies. Cost- sharing programs for pollution prevention are often difficult to understand and have changing conditions attached to them. While farmers in the region are aware of the importance of keeping fertilizers out of the river, some are still in need of assistance in building adequate storage for a long winter's accumulation of manure. At megadairies, there is the challenge of avoiding pollution of runoff while managing more animals on a smaller piece of land. Uninformed or improper use of biosolids or other high pH field dressings could lock up nutrients in the soil or allow extra nutrients to fertilize the river instead of the fields.
Forestry: There is concern about negative perceptions of forestry by the public, particularly about heavy cutting and slash disposal near waterways. These objections, on the grounds of aesthetics and effect on water quality, have potential to lead the public to demand closer regulation of forest management practices. Flash flooding, bank erosion, and siltation can result from increased surface runoff when large areas of forest cover are removed. Siltation from improperly built stream crossings or skidder trails, or harvesting when soils are prone to erosion, can harm fisheries and water quality, and can pose problems at downstream industrial water intake pipes.
Historical and Archeological Resources: The most important threat to the region's heritage may be the loss or fragmentation of agricultural landscapes and dilution of the identity of traditional village clusters through development. Historic features which add so much to the character of the region may also suffer from decay and indifference. A number of historic barns, including a rare round barn, have been taken down by their owners because of the tax burden they represented. Stone culverts and walls can be lost through road widening projects, skidder activity, and development, and historic bridges may deteriorate if they are taken out of service and maintenance funds are not available. Bank erosion can expose archeological sites, and these sites may be looted for artifacts before they can be studied.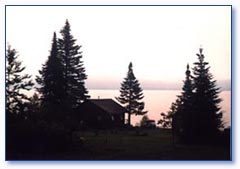 Land Use and Development: The Headwaters region of the Connecticut River has so far escaped many of the problems currently faced by more developed areas downstream, but it is clear that increasing pressure for recreational use, construction of vacation homes, and commercial and industrial development could bring those problems north. The result could be as simple and direct as property loss from flooding and riverbank scouring as construction proceeds too near the river, or as subtle as the gradual erosion of the river valley's extraordinary scenic quality.
Productive but easily built-upon agricultural and forest lands could be permanently lost to development, and remaining farms subjected to complaints from new neighbors who may not understand farming operations and needs. Farmers may be financially forced to sell land for residential development, resulting in higher town costs for services and schools. Sedimentation from eroding construction sites could reach the river, and floodlighting from commercial development could detract from river recreation. Commercial and residential sprawl outside of historic village centers could lead to loss of their traditional vitality. Inappropriate development and signage could alter the familiar rural character of the area, particularly around the Connecticut Lakes.
There is presently no means to guide shoreline development in many of the Headwaters towns, a fact which could make it more difficult for these towns to protect their residents and property from some of the troubles that have already developed downstream.


OBJECTIVES
The Headwaters Subcommittee emphasizes the following:
Educate landowners, voters, and visitors about how best to keep the Connecticut River the high quality resource it still is. Enforce those regulations that already exist, and use common sense in caring for land near the river. Improve the balance of compatible uses of the land without impacting the river. Minimize the impact of forestry and agricultural practices upon the river while preserving these uses of the land. Discourage polluting industrial uses.
The Headwaters Subcommittee wishes to see the excellent cold water fishery in the region maintained and improved if possible, through attention to water quality and increased survivorship among fish populations. The fishery should be more self-sustaining and enjoyed by both residents and visitors to the region. Low impact recreational use and enjoyment of the river should be encouraged. Recreational amenities should be compatible with the rural character of the area. The historic character of village clusters, river crossings, and the working landscape should be retained while people continue to live and work here.
The Subcommittee values the diversity of wildlife in our region, particularly that associated with the Connecticut River and its rich bottom lands, and seeks to maintain biodiversity and to balance multiple uses of the region with wildlife needs. The approach should be oriented toward conservation rather than strict preservation. Most of the riverfront property is owned by private individual and corporate landowners who have in the past and will in the future play a key role in habitat conservation.
A sustainable agriculture in the region is key to the scenic quality of the river valley. The primary answer for the many difficulties facing North Country agriculture is a beneficial taxation policy. It is appropriate for the public to share in assistance to achieve non-point pollution control on farms. A land stewardship ethic must integrate the growing, nurturing, and harvesting of trees for useful products with the conservation of soil, air and water quality, and wildlife and fish habitat. Practicing sustainable forestry will allow our forests to meet the needs of the present without compromising the ability of future generations to meet their own needs.
Continue to Recommendations >>
---