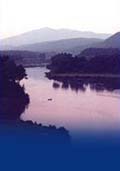 Fishing
on the Upper
Connecticut River

Whether it's a wild brook trout, a migrating American shad, or one of the river's famous walleyes you're after, here's what you need to know to fish these waters safely and legally.

Know what license you need

Anglers age 16 and up must have a valid New Hampshire fishing license. Resident Vermonters may use their Vermont fishing license anywhere on the Connecticut River. Those holding a non-resident Vermont license may fish the Connecticut River from the Vermont shoreline, but must purchase a New Hampshire license to fish from a boat or elsewhere in these New Hampshire waters.

Know how to avoid spreading Didymo

This new algal invader of the Connecticut River system apparently arrived here on the soles of a fisherman's waders, and now threatens fish habitat.

CHECK - Remove all visible clumps of algae and plant material from fishing gear, waders, clothing, water shoes and sandals, canoes and kayaks, and anything else that has been in the water.
CLEAN - Soak and scrub all items for at least ten minutes in very hot water with lots of soap. Felt-soled waders need 30 minutes!!
DRY - Whenever possible, dry items thoroughly for at least 48 hours before using them in another waterbody.

Click here for more info on didymo.

Know the boating laws

Respect the boating laws that apply to the Connecticut River. Avoid causing erosion with your wake - less sediment in the water means better fishing. Travel at headway speed only when within 150' of shore, another boater, bridge, or swimmer.

Know where to launch

Use designated public access sites to launch your boat. Check here for maps showing access sites.

Know the guidelines on consuming fish

The State of New Hampshire has a state-wide mercury consumption guideline, with special advice on fish taken in Moore and Comerford Reservoirs on the Connecticut River. As a voter, you can support reduction of mercury pollution that contaminates fish.

Know the fly-fishing segments

New Hampshire manages some sections of the uppermost Connecticut River for fly-fishing only
For more information, contact
New Hampshire Department of Fish and Game
Vermont Department of Fish and Wildlife
US Fish & Wildlife Service's Connecticut River Coordinator's Office. This site includes
maps of fish passage at dams, and fish viewing stations
daily Connecticut River migratory fish return counts
a Connecticut River fish photo tour
management and recovery efforts for American shad, Atlantic salmon, and other migratory fish
much more
Mercury, delivered by prevailing westerly winds, has infiltrated the food web and accumulated in resident fish to the point where the State of New Hampshire considers the entire river system, and others in our region, to be contaminated with mercury. The State advises that pregnant and nursing women, and women who may get pregnant can safely eat one 8-ounce meal per month of freshwater fish. Children under age 7 can safely eat one 4-ounce meal per month of freshwater fish. All other adults and children age 7 and older can safely eat four 8- ounce meals per month of freshwater fish. When eating bass, pickerel, white perch or yellow perch, limit consumption to fish 12 inches or less in length while following the above guidelines. Stocked trout contains relatively low levels of mercury. For rainbow and brown trout, women of childbearing age and children can safely eat one meal per week, others can eat 6 meals per week. Brook trout could be either stocked or from a reproducing population, therefore they should be consumed at the rate of the general statewide advisory. Because mercury builds up in the meat of the fish, there is no way to prepare or cook the fish that will reduce or eliminate the mercury. Generally, smaller, younger fish have accumulated less mercury and should be safer to eat.
On Moore and Comerford Reservoirs, the State of NH has issued stricter fish consumption guidelines due to the presence of mercury in the sediments of these fluctuating impoundments which may move up through the food chain. These guidelines also apply to Mascoma Lake in Enfield and Ashuelot and May Ponds inWashington. Sensitive populations should not consume any fish from these waters; others may consume two meals per month.

Connecticut River Trout Management
The New Hampshire Fish and Game Department manages the following segments of the Connecticut River for fly-fishing only:
from the dam at Second Connecticut Lake to the upstream side of the logging bridge on the Magalloway Road
from the Magalloway Road bridge to the inlet at Green Point on First Connecticut Lake
from First Connecticut Lake dam to the signs on Lake Francis
from a point 1,600 feet upstream from the bridge in North Stratford upstream to a point 250 feet below the Lyman Falls Dam in North Stratford
from the Samuel Moore Dam downstream to the Route 18 bridge.